Today we have guest blogger Jessica:
10 years ago today, David and I met at Iron Cactus on 6th street. My dear friend Sara introduced us. She had known David for years through their friend Aron. I had known Aron for a few years b/c we all went to SWT together.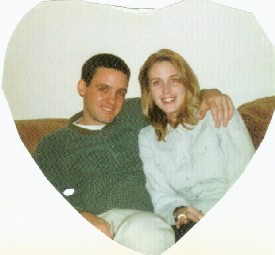 The following Tuesday, I saw Aron driving on I-35 toward San Marcos (Aron and David went to high school together and are/were great friends). We pulled over at a rest stop after he motioned for me to pull over. We talked about David and how David and I should go out sometime.
Three days later, David called me for a date. (He went to the library or somewhere to find a San Marcos phone book!) A week after our first date, we went out on the town with Sara. Sara took the attached photo on that night.
And the rest is history…
We wanted to have a big gathering at Iron Cactus to commemorate, but we are old and lame. Look how young we are in this photo. And I thought I was so old and mature. I am a scant 24 years old, and David is a mature 25.
Enjoy the photo. 1997 was a good year for me. In March of '97, I was
hired at UT Austin, where I ended up meeting some of my favorite people.
Happy New Year from Familyvance!