It's been more than five years since my last race (the 2011 Houston Marathon which I never wrote about). As soon as I crossed the finish line of that marathon five years ago I swore I was done racing. I was burnt out, I was physically hurt, I knew I didn't want to keep pushing so hard, and my ego wouldn't let me race when I knew I couldn't keep up the training to keep getting faster.
So … who's ready for a new race report?
I raced a 5K on Saturday March 5th, the "Neighborhood Fun Run" in Westminster. Why? I need a "qualifying time" for the Bolder Boulder 10k in May if I want to start in a non-walking wave. The last two years I've jog/walked the 10K with the boys, and this year I decided to "race" it, even considering I'll be 10 minutes slower than my personal best of 5 years ago. So I've been running some 800s on the track every once in a while, but mostly I just jog a few miles a week in prep for these races.
By and by, Friday night before the race I was kind of freaking out. I used to love races, the competition and all, but this night I was just afraid of hurting during the race. I currently only run about 12 miles a week (which is an improvement over the previous few years), and I never really push myself, and I guess I had forgotten what 5k pain was like. In the end, not too bad, though I can't say I pushed myself like I used to. Maybe that's just a function of being in much worse shape and not having the ability or desire to run hard and fast anymore.
The race was very low-key. $5 entry, no chip timing, out-and-back mostly on sidewalk/gravel trail. We just walked over to a park, they said, "this tree is the start and finish, turn around when you get to the orange cone" and the guy yelled "go". There was a lady recording times. I guess it's legit enough.
Anyway…
21:33. 10th overall. My splits were something like 6:59, 6:51, 7:09. Yeah, that's kind of ugly at the end, though I'm not positive about that third mile since there was no mile marker and I didn't have a GPS, but I was definitely dying pretty bad. It felt good to hurt again, though, and it went by fast enough to not cause too much trauma.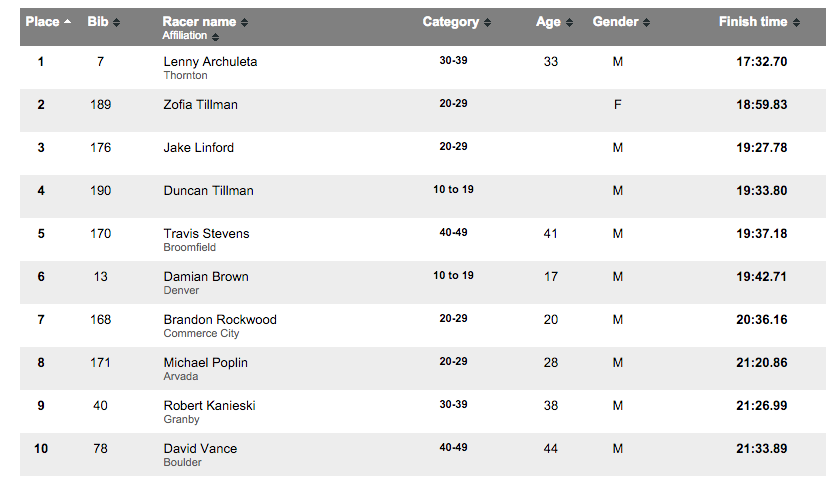 I was running behind a guy for the whole second and most of the third mile, but he kept speeding up and slowing down, so I passed him with about half a mile to go, pretty much knowing he would sprint by me at the end. I was just tired of his weird pacing. Of course he kicked past me and beat my 7 seconds.
All-in-all, much better than I expected. I was thinking I would be around 7:30 pace, since the 800s I've been running have been at 3:30-ish. I didn't think that would also be my 5k pace. Not sure what that says … I run the 800s too slow? I did run 6×400 on the Thursday prior at around 95s which was slightly encouraging.
Did it get me jazzed again about training and racing? Not really. I thought about what it would take to run a sub-20 5K (still slow), and realized that's more than 30s per mile I'd have to drop from my current pace. It doesn't really seem feasible given my (lack of) willingness to run hard. I did sign up for that 10k on Memorial Day, so hopefully I can increase the training a little bit for that.
Yay.