I was going to write about my first week back to Gazelles, my official start of marathon training, the tempo run today, the achilles update. But that all seems so lame after learning more about by Grandfather (more on that in a moment), so I'll save it for another post.
I found out the other day that my mom reads this blog (hi mom!). Obviously, that will affect everything I write, and convince me to do some buttering up, like this entry. :) Today is my mom's birthday, and while having lunch today with her and my sister, my mom went into her "lecture" mode. By lecture I mean the educational professorial kind, not the stern parental kind. My mom has a PhD in history, and her answers to questions often turn into long historical asides. Sometimes that trait can be, uh, less than desirable, but often it's pretty interesting, like today, when she spoke on WWI, the history of Africa and the Middle East, and her father, Thomas Martin Moore, whom we all knew as Daw.
Somehow we got to talking about Daw, and although he passed on a few years ago, he's still one of the coolest people I've ever known. My mom began relating stories about his childhood, his life, and it was clear how much she admired him and still loved him. I kept thinking how this ordinary man was so amazing, and how all this focus I have on running seems so … I don't know … self-indulgent? Anyway I'd like to write down and share some of what my mom said about her father today (some of these dates and facts are probably wrong, mis-remembered or embellished).
Born during WWI, Daw grew up without plumbing or electricity on a farm outside of Fort Worth. When the outhouse got full, they would just cover up the hole, dig a new one, and move the structure. His family still had an outhouse and no electricity when my mom would visit Daw's parents as a little girl during the summers in the 40s. She said the outhouse was too scary and she refused to use it, so they gave her a chamber pot. They also used kerosene lamps and had a well for water. She said she loved that well, the water was so cold and delicious. I could just imagine a little girl watching her grandfather pump the well, waiting for the cool water during a Texas summer. It wasn't until my mom was 10 or 11 (1950s) that her grandparents in Fort Worth got electricity and plumbing. A couple of my mom's other memories of that time were watching her grandmother wring the neck of a chicken for dinner, and eating fried squirrel that her grandfather had just shot.
Daw started working when he was seven years old by going door-to-door in the "rich" part of Fort Worth selling vegetables his family grew and pecans which he had gathered by the river. He attended Fort Worth Polytechnical (now Trimble Tech I think; in fact, "Trimble" was Daw's principal) in high school where he learned welding, drafting and construction. My mom said he could build anything and fix everything. He was also a football star as a running back. Leather helmets, no pads, and he blew out his knee. My mom said, "Father said in those days you didn't get injured, you just wrapped it up as tight as you could and kept playing." He had knee problems from that injury the rest of his life (I remember he used a cane sometimes and couldn't walk up stairs without help later in life).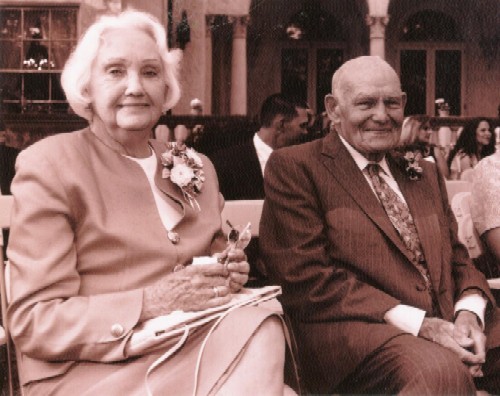 Mema and Daw at my wedding, April 1999
He met my grandmother, Willie Jeanette Polk, whom we called Mema, when he was 18 (I think) and she was 14. He was a country boy, she was a city girl, and he quickly fell in love. They married the next year, in 1934, during the height of the Great Depression. No one anywhere had a job, but Daw found one in an Armour Meat Packing plant that paid $12.50 per week. My mom said the meat packing job was so terrible that Daw never afterwards spoke about what he actually did. But with that $12.50/week he supported his parents, brother, two sisters, and his new wife. All seven of them lived together in a two bedroom house.

Mansfield Dam. Photo by Craig Allen
Filling in the gaps from other things I know (my mom didn't talk about all of this today), Mema and Daw later lived in Austin for a time while Daw worked on Mansfield Dam as part of the WPA. During WWII, Daw couldn't join the military because of injury (knee?), and he took a lot of grief from strangers about it. (What is a seemingly able-bodied man not doing off at war?) If I remember, he worked during the war at a shipbuilding yard in the Northeast (New Jersey maybe?)
Eventually they moved to Corpus Christi, where my mom was raised. Daw opened his own shop there, where he did welding and other construction-type stuff. My mom said he came from a long line of blacksmiths: his father, grandfather, great-grandfather ….. I'm about as handy as a duck, though my brother is pretty industrious. Anyway, near his metal shop was a little hamburger stand and Daw became friends with the owner/cook. HIs name was Harmon Dobson. You probably haven't heard of him, but you love his burgers.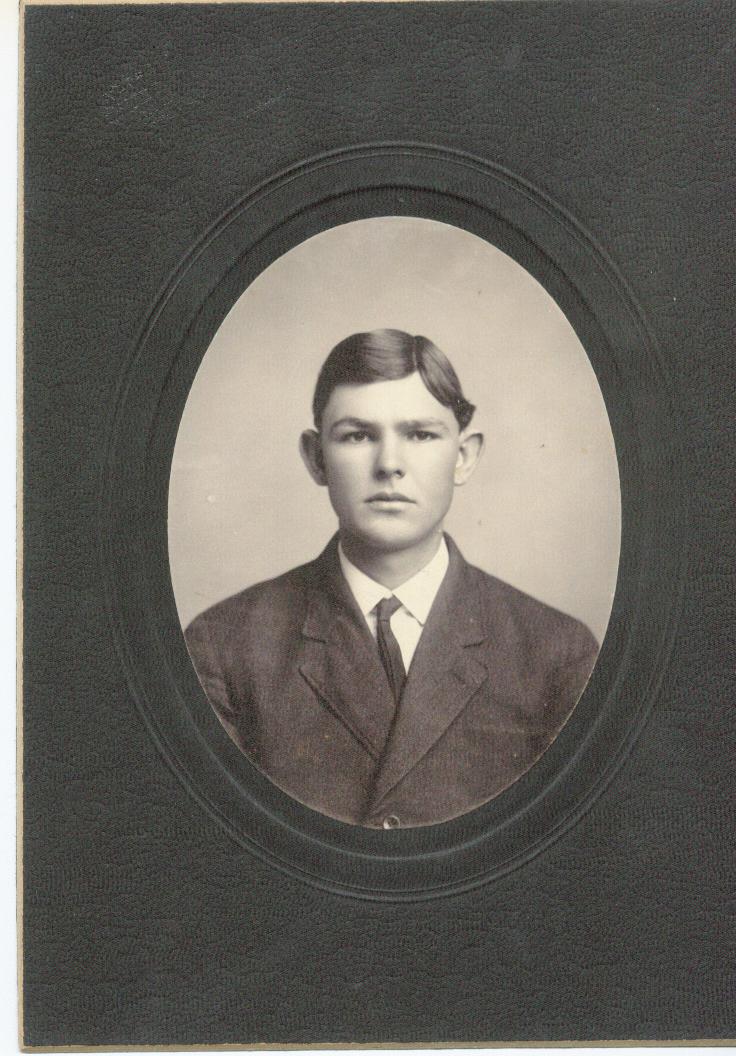 Great-Grandfather Elmer Everett Moore
Anyway, Daw started building Whataburger restaurants, laid out the prototype for the A-frame in his shop and built the first of those in Odessa. Daw was soon traveling around the south supervising construction of new Whataburgers and Mema finally asked him to stay home. Mr. Dobson wanted to keep him in the family so he offered him his choice of Whataburger franchise markets. Daw's first choice, Fort Worth was already taken, so they chose Dallas. When Mema and Daw finally sold their franchise back to the Whataburger headquarters in the 80s, they owned 9 or 10 restaurants throughout Dallas. Not bad for a welder and his wife who never graduated from high school.
They both lived for another fifteen or twenty years, and when Daw died, he was piddling around in his tool shed out back, probably fixing something.
My memories of Daw are of the hat he wore, the pecans he still gathered as a 70 year old, fishing for catfish, and how excited he got talking about the "new taquito product". As a kid, I always thought it was odd that he paid for his Whataburgers at his own store. I loved going to Mema and Daw's house for the summer as a kid. When I think of a comforting home, that's what comes to mind. In college, I would visit for a weekend, get great home cooking (probably from Aunt Kathy), and when I was leaving Daw would give me a handshake and slip me a couple of $20s. A couple times after college, when I was rather , ahem, directionless, I would go to their house and just spend a couple of weeks getting myself together. They were just glad to have me, fed me, let me sleep and think and be myself, and never said anything about me being a bum (which I was).
I remember Daw kept a revolver by his bed and thousands in cash in his safe (a leftover, I'm sure, from the Great Depression when you couldn't trust banks). I remember him paying a huge stack of cash for a truck once. He bought a new Cadillac every two years, but he loved his old truck and would rather drive that. He liked to watch wrestling. Not the new WWE nonsense but the old school Saturday night stuff from the Dallas Sportatorium. He used to fall asleep in his recliner watching old westerns.
Daw was just a regular guy. I guess his life isn't that different from millions of people around the world, but since he's my Daw, perhaps it seems more romantic. I'm sure it wasn't so at the time, and I know he had flaws, but still, we miss him and remember him as a great man.