Another little workout today, 6x643m, each in around 2:35-ish. If that seems an odd distance, it is.
So I had the idea to do 800 repeats today, and figured I'd hop over to Waneka Lake where there are mile markers. The trail around the lake is 1.2 miles, and well, I thought there were 1/4 mile markers, but there are actually only .2 mile markers. So I had the decision to run one of .2/.4/.6/etc, or just scrap the idea entirely. I settled on .4 because I'm a wussy and .6 seemed too hard. Anyway, Google says .4 miles is 643.738 meters so that's what I ran, with a .2 mile rest jog between each.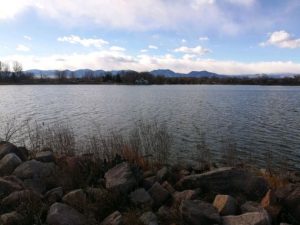 As usual the wind was stiff coming across the lake, so after my warm-up without a pull-over, and running counter-clockwise, I again wussed up and put on my pull-over and switched to the easier clockwise direction. I felt pretty strong on each interval, the temp was around 35 and the trail was mostly empty. 2:35 ish converts to about 6:30 mile pace, so I'm happy with that. Ran a total of 5.2 miles. All-in-all, a good little workout.