With less than 12 hours of notice or forethought, I decided to run the Barr Lake 15K. I came across the race listing looking for 5K races later this summer, and initially the half-marathon portion of the event caught my eye. I'm familiar with Barr Lake State Park from birding excursions with Jessica, and I knew it was flat, scenic, and would be a change of pace from the usual urban course. I told her I was going to run the half-marathon and she raised an eyebrow, asking if I was prepared. I replied, "how hard could it be, I'll just treat it as a long run." But the more I thought about it, the more I realized it was a bad idea. I haven't run longer than 75 minutes in at least a year, and a half-marathon figured to be 100 minutes at best. That last half hour would be painful. So, I readjusted my sights on the 15K, and at 11pm the night before the race, told Jessica I was racing in 8 hours.
After the usual frantic, 6 a.m. pre-race morning rush (feed the pets, change of clothes, a bit of food and water), we arrived at the race site where I noticed a flag blowing in the wind. Crap. Not good for 7 a.m. I registered, watched the half-marathon race start, and did a quick 1/2 mile warm-up.
I wasn't really sure what pace I was going to run. I told Jessica 7:40 would be good. Less than 24 hours before the race, I had run Easy Interval Method 8x400s in 1:46-1:51 (7:20/mi ish) and felt strong, so when I got to the starting line I thought I'd shoot for 7:30 pace and see if I could hold it.
After the gun went off I made a conscious effort to not go out too fast. Three leaders immediately took off, leaving me in another group of three. We ran together for the first mile or so, and I figured we would run most of the race together. However, the other guy dropped back, and the woman moved in front, and we slowly spread out. The wind was noticeable, but it was coming across the course and wasn't much of a help or hindrance. When we ran across the dam, though, the wind was behind us and I could see my heart rate dip while I maintained the same pace. That was nice.
Speaking of heart rate, mine pretty quickly got into the upper 140s, which is just below anaerobic threshold for me. It stayed there for the entire race, as I locked into a manageable rhythm of breathing, cadence and effort. I felt like I could run at that rhythm all day.
The woman slowly drifted farther in front and by mile six she was probably 600m ahead of me. I was still running the same pace. In fact, as each mile ticked off I was surprised at how steady my pace was. The trail was uneven in spots, the wind was behind me, in my face, or to the side, and still my pace was even.
Around mile seven the wind was directly in our face at about 20 mph, and it was brutal. I could see the woman coming back to me, and I figured she was slowing more than I was. It was good to have someone to chase. I never felt in too much discomfort, not like a usual 5K race, or even a 10K. Maybe I didn't run it hard enough? I passed the woman at mile 8 and she said, "this wind!" "It's brutal!" I replied.
From there I just tried to keep the same steady pace. We ran across a boardwalk over the water which was cool. There were some annoying switchback type curves. I saw Jessica at mile 9 cheering and filming. I tried to look strong. I hate seeing my stride on film.
The finish line was in site and I had to back off a tiny bit to let a half-marathon runner across a bridge in front of me just before the finish, where I "sprinted" to the line.
Overall finishing place: 4th (2nd male, 1st masters)

According to my GPS, the course was short by about 200 meters.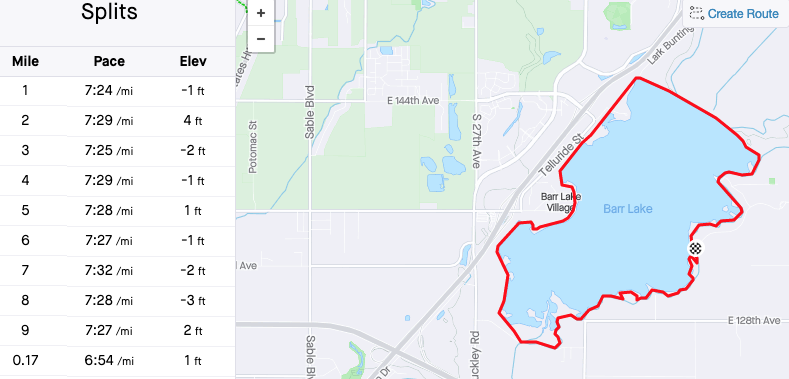 Overall, I'm pleased with the race, my effort, my pace, and mostly the consistent splits. I didn't train for the race, I didn't taper, I didn't even expect to run it until the night before, so to put in that effort and get that result was reaffirming.
The course was lovely and every few minutes I would look up at the snowy peaks, or see a waterfowl skimming across the water, and remind myself to be grateful that I was able to experience those moments. Also, it crossed my mind that maybe longer distances are my forte, or at least my preference. Like I said, I felt like I could maintain that same pace for another 9 miles, but even more than that, I truly enjoyed the feeling of just ticking off miles at a sustained effort. 5k races are so uncomfortable as to not be fun. This race was enjoyable. Afterward, it got me thinking of training for a half-marathon, and using that fitness to achieve the sub-20 5k goal along the way. Food for thought…
Postscript: my quads are trashed. I took the next day off and was very sore. Even two days later, my easy 4 mile run is labored and my quads are still very sore. But I tell myself those things just mean I raced hard.