I posted this as a comment on another MLS-as-savior article, but thought it would be worthy of it's own home…
Thanks for the ideas, but please don't just regurgitate the MLS spin on football in the US and abroad and their role in it.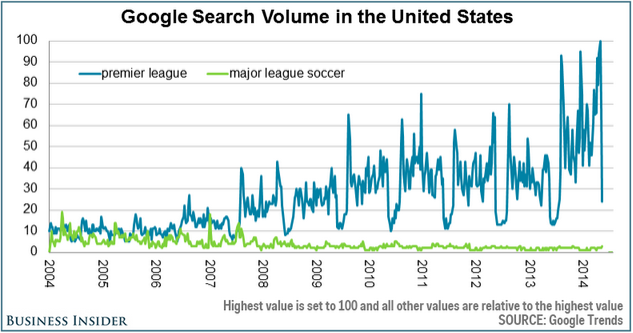 While MLS may be growing (albeit slowly), the other leagues they are competing against to become "one of the best soccer leagues in the world" are growing at a much faster rate, thus MLS is actually falling behind, not catching up. Any rhetoric MLS espouses about being a "top league" is just that, rhetoric. With their current business model (which they claim is losing $100mm/year), they will never catch up with the big football leagues, no matter how many foreign players they sign.
An interesting blog on the faltering MLS business model points out that MLS investors are leaving a lot of money on the table for the reduced risk, via a cartel, of restricting competition.
– MLS?s new TV deal (beginning in 2015), the largest in the league?s history, with Fox, ESPN and Univision, raises their TV figure to USD 90MM for eight (8) years
– NBC signed a deal with the EPL in 2013 for USD 85MM per year for three years, to televise EPL games in the United States
– The EPL recently signed a three year domestic television deal for an estimated USD 8 billion (5 billion pounds), or USD 2.67 billion per year versus MLS?s USD 90MM per year deal
LigaMX regularly doubles the ratings of MLS. Those fans aren?t switching allegiances?
"Liga MX Again Top Soccer Draw

Last Saturday?s Cruz Azul/Atlas Liga MX Clausura match drew a 0.5 final rating and 948,000 viewers on Univision, the week?s top soccer audience on any network. The match topped the MLS on ESPN2 (539K) and the top English Premier League audience on NBCSN (482K). Liga MX has now generated the top soccer audience in five straight weeks and eight of the past nine."
Last weekend MLS trumpeted a ?ratings boost?, but they were actually the lowest sports TV ratings of the weekend in the US, behind gymnastics, NCAA basketball, etc.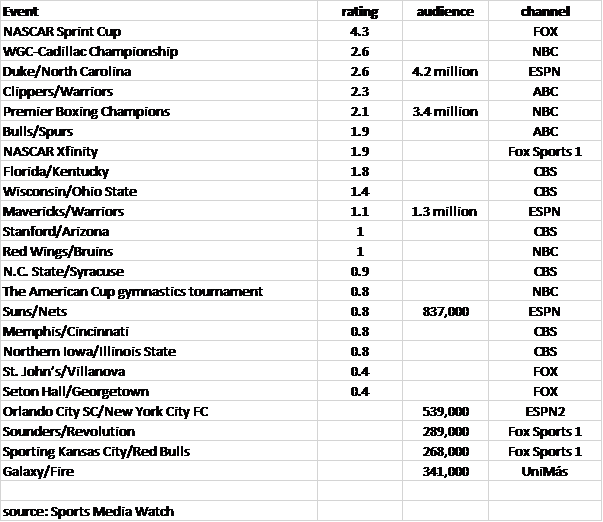 Also, the idea of bringing in high-priced foreigners and paying them 10x more than rank-and-file players is a tried-and-failed business model. At some point, if MLS truly wants to be a top league (and I don?t think they do), they?ll need to increase wages by 10x across the board. That means raising the salary cap from 4mm to 40-50mm.
Finally, MLS and the US Soccer Federation are actually killing US soccer, not investing and improving it. US Soccer is so much more than MLS. Think of the dozens of independent, lower level teams, think of the immigrant culture that doesn?t watch or attend MLS, think of youth soccer which is among the highest participatory sports for kids…
What MLS is actually investing in is a protectionist cartel for a few billionaire owners who are mitigating their risk by monopolizing soccer resources. Why can?t the NY Cosmos or San Antonio Scorpions have access to Division 1 soccer and the benefits that brings? Why should Robert Kraft have access to Division 1 soccer in perpetuity with no competition? How does that help the 40 USL clubs, the 100s of youth clubs, the US national teams? Monopolies are never in the best interest of a society, which is why we legislate against them.
It?s a mockery how MLS is shaping the narrative to their benefit. Soccer is HUGE in the US (Witness the 110,000 in Michigan recently, the fact that the USA sent more spectators to Brazil than any other country, the fact that LigaMX and EPL crush ratings compared to MLS).
Soccer in the US doesn't need to "grow", it needs to be unleashed.
Some more useful reading: